Group Companies
Introduction of Group Companies
Imuraya Group – Strong, flexible and attractive
Entire Imuraya Group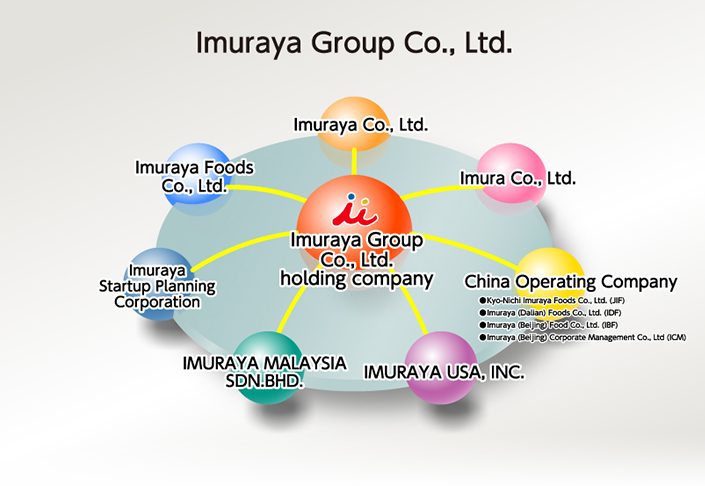 Imuraya Group consists of 7 companies, such as IMURAYA GROUP CO., LTD. at its center as the holding company, IMURAYA CO., LTD., providing wide-ranging products including Azuki Bar (Ice cream) and Nikuman Anman (steamed bun), and IMURAYA FOODS CO., LTD., operating BtoB for seasoning agents and processed food. We have 4 bases in China and 1 base in USA to focus on the overseas business as well.
IMURAYA GROUP CO., LTD.
It is group's holding company, and its main role is to support each sister company. In particular, it plays the central role of preparing group management strategies, managing group's assets and investment activities. It takes a major role in maximizing the corporate value of the entire group and enhancing synergy effect in the group.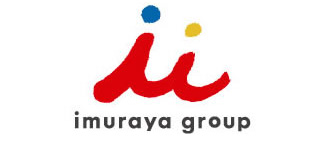 IMURAYA CO., LTD.
Creating products that give customers' satisfaction
We mainly manufacture and sell Azuki beans confectioneries, chilled food products, and ice cream to provide products and services which create customers' smile from its enjoyment. Not limited to just Japanese food and confectioneries, it expanded its business to restaurants operation.
IMURAYA FOODS CO., LTD.
The center of our group's B2B is consisting of "seasoning business", which produce non-retail seasoning agents, and "premade food business" which manufactures retort pouched product. With the production technology and experience, we meet the customers' needs through OEM (Original Equipment Manufacturing) and ODM (Original Design Manufacturing) as well as developing new and improved products.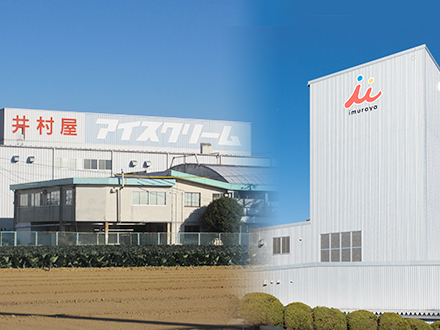 IMURA CO., LTD.
It specializes in the management of rental properties operated by IMURAYA GROUP CO., LTD., leasing of properties owned by group companies, operation of day care center "aiai kids' room", "imuraya Sweet Shop irodori", outlet shop "MOTTAINAI-YA" and providing other services to support the group companies.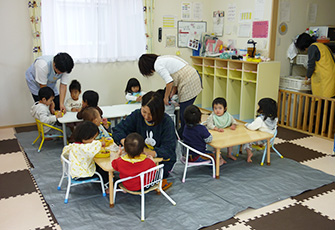 KYO-NICHI IMURAYA FOODS CO., LTD. (JIF)
sells seasoning produced by Imuraya (Dalian) Foods Co., Ltd. (IDF) to processed food manufacturers in China. Being totally committed to marketing since 2014, JIF has enhanced its capabilities to create proposals to meet the client's needs.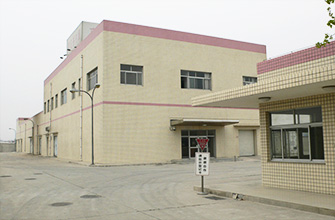 IMURAYA (DALIAN) FOODS CO., LTD. (IDF)
develops, produces, and exports seasoning agents made mainly from seafood extracts, and castella cake made using Japan quality production technology. IDF ensures high-quality products for customers by focusing on development and production.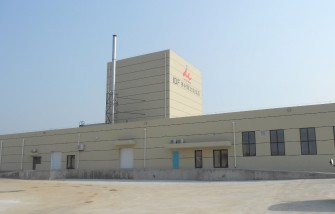 IMURAYA (BEIJING) FOOD CO., LTD. (IBF)
sells food products produced in Imuraya (Dalian) Foods Co., Ltd. (IDF) to retailers in China. IBF is also trying to open up new markets so its products will be enjoyed by more consumers.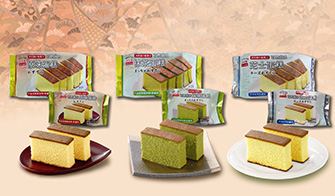 IMURAYA (BEIJING) CORPORATE MANAGEMENT CO., LTD. (ICM)
was established to support Imuraya Group companies in China in terms of fund management, financial and general affairs administration to consolidate all business operations in China in the future.
IMURAYA USA, INC. (IMU)
produces and sells Japanese-style frozen dessert including Mochi ice cream with non-dairy. IMU also imports and distribute the products produced by Imuraya Group companies in the US domestic market.